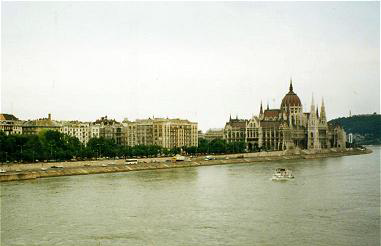 The River Danube, Europe's second largest river, and the only major European river that runs west to east, divides Hungary down the middle, going through Budapest, its capital. Nearly one third of this river runs through Hungary. Its other major river is the Tisza. These two rivers separate Hungary into three large parts.
Western Hungary is characterized by hills and low mountains. The mountains of Sopron and Koszeg, are built up of ancient crystalline rocks, while to the north, the highest and most varied terrain of Hungary exists. The mountains in this region are mostly volcanic in their structure.
Nearly 50 miles long, Lake Balaton hails not only as Hungary's largest freshwater lake, but that of Central Europe. Hungarians often refer to it as the Hungarian Sea. To the south, its shoreline is sandy and shallow, making it ideal for boating, swimming and fishing.
Across the lake, the northern shores are steep and hilly, and the surrounding land is marked with hiking and biking trails. In winter months, its frozen waters continue to provide entertainment for visitors.
But diverse land characteristics are only a few of the things that set Hungary apart from its many neighbors. Often described as picturesque, Hungary offers a wide variety of natural and historical attractions.
Hungary's climate is considered continental, with marked differences between summer and winter conditions. The average temperature is 50 degrees F, but July, being the warmest month, has an average temperature of 82 degrees F, while January, (coldest month) has an average temperature of 30 degrees F.